Allan Pearse Funerals is a 100% Australian family owned business, which has been serving the Great Lakes and Manning districts since 1985. We pride ourselves on attention to detail, and we feature 15 staff experienced in doing just that.
Whatever the specific nature of your needs, you can rely on our skilled personnel to facilitate your requests. We understand the importance of funerals in providing comfort and closure to friends and loved ones. Keeping this in mind, we'll do everything we can to guide you through the process. When all is said and done, we're confident that you will be entirely satisfied with the outcome of your event.
If you're interested in learning more about our array of funeral services, be sure to reach out to one of our certified funeral directors. We take a comprehensive and compassionate approach to service and we will ensure you receive the necessary support to honour the memory of your loved one.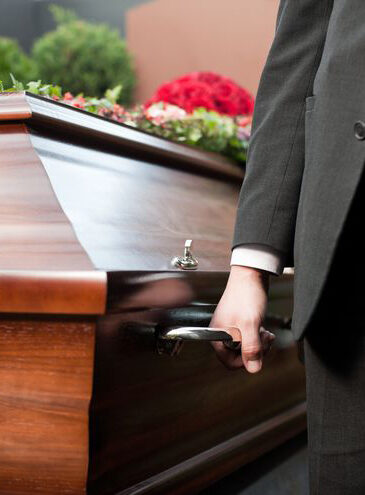 OUR CORE VALUES
We constantly strive to be Australia's best funeral care provider. This is achieved through the establishment of a great company culture that supports and enables staff to deliver the highest of customer service experiences.
Take care of our staff and suppliers. In turn they will take care of our client families
Take actions that build lasting connections and loyalty
Work calmly as a team across all areas of the company
How we do business is as important as the business we do
"PROFESSIONAL, CARING AND SENSITIVE"
Helena Haley – 2023
A very professional team of people that were very caring and sensitive to all our needs. Financially affordable and respectful of family wishes. I would recommend them to anyone who needs their services.
"RESPECTFUL, POSITIVE AND SEAMLESS"
Caroline Glover – July 2023
Our experience with Allan Pearse Funerals was very positive from our first meeting they made the process seamless. Dealing with a death in the family is never easy but they certainly were very accommodating and respectful.
"WONDERFUL AND PROFESSIONAL SERVICE"
Stuart Agar – 2023
At a difficult time Allan Pearse Funerals made the whole process easy & comfortable. Could not fault their wonderful & professional service. All staff were absolutely amazing. Thank you all.
WANT TO TALK IT THROUGH?
WE'RE HERE FOR YOU WHEN IT MATTERS
Contact our dedicated staff 24 hours a day, every day of the year. It's easy to arrange an appointment for a personal consultation in the comfort of your own home or our private offices. Call us on (02) 6554 5433